:
Geocell is reinforced by high intensity HDPE broadband, after the powerful welding face to become a reticular lattice room structure. It retractile,transportation can shrink fold super to,when using ,open and filling earth-rock,or concrete materials,constitute has strong lateral restrictions and taking degrees structures ,it can be used as a cushion,dealing with weak foundation bearing capacity , also can be laid on slope surface slope protection structure constitute, still can be used to build retaining structures,etc

We produce geocell prodution line: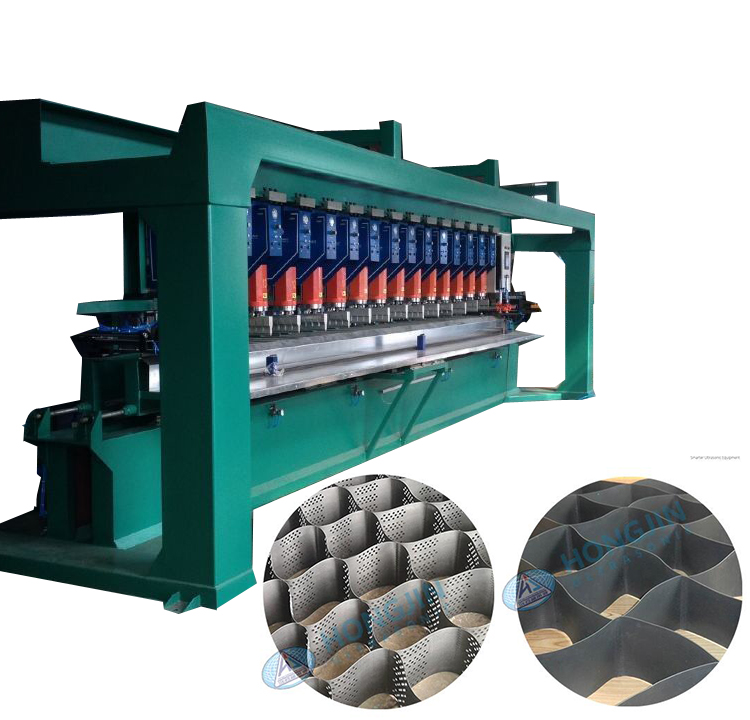 Geocell extrusion line:

A.solid railway roadbed
B.highway's soft foundation
C.withstand truck force embankments,retaining wall
D.running shallow river
E.pipeline and the sewer's support structure
F.to prevent landslides and load force by the hybrid wall
G.to use independent wall ,wharf ,breakwater and so on
H.to govern the desert, beaches and the riverbed , banks
What We Can Do For You
1. We have our own factory. We can provide what you want in competitive price.
3. Our company is in strict accordance with national standards and related standards. Our company passed CE and SGS certificate
4.5.We know well about container. We can make advice for you to reduce freight without damaging goods.
6.We can provide Certificate of Origin. For Southeast Asia, FORM E and FORM A. For Chile, FORM F. For Africa, CO.
7.We are looking forward to your sincere cooperation. If you have any question, please feel free to contact us.

Contact:Diana Zhang
Tel/whatsapp/wechat:+86 18017923790
E-mail:shanghai@hongjincsb.com
Skype:wangze_hong